U-STOP LED Sign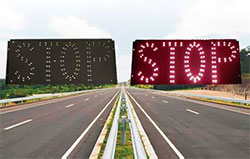 High-profile visibility solutions that can lower your operating costs by reducing the chance of rear-end collisions.
Fiberdyne Energy's U-STOP LED stop sign is just one of our custom LED signage solutions. The U-STOP 300-series is wired to the vehicle's brake light circuit and illuminates the word "STOP" in bright red LEDs whenever the vehicle brakes are applied. The sign is fully potted, allowing it to be mounted in a wide variety of locations on your vehicle. The circuit board is encased in a silicone based product providing moisture and vibration resistance for long term durability in a transit vehicle operating environment.
We understand that buses operate in harsh environments - so we designed our U-STOP LED stop sign to operate in those environments. Our design was tested to confirm our U-STOP LED stop sign remains operational while fully submerged underwater, as per IP67.
U-STOP 300 Series Technical Specifications Download .PDF
REFERENCE PHOTO
MODEL
U-STOP 299
U-STOP 300
U-STOP 301
U-STOP 302
U-STOP 303
U-STOP 304
U-STOP 305
U-STOP 306


Input Voltage
24 VDC
24 VDC
24 VDC
24 VDC
12 VDC
12 VDC
12 VDC
12 VDC
Input
Current
0.25 DC Amps
0.25 DC Amps
0.25 DC Amps
0.25 DC Amps
0.5 DC Amps
0.5 DC Amps
0.5 DC Amps
0.5 DC Amps
Wiring
Harness
Custom Exit
Right Exit
Left Exit
Middle Exit
Left Exit
Middle Exit
Right Exit
Custom Exit
LED
130 Clear package red LEDs
LED
Intensity
2800 mcd (typical)
Color (Wavelength)
Red (660nm)
Working Temperature
Between -40° F and +185° F
Wiring
Two 12" long 18AWG automotive-grade wire leads with a weathertight connector
Housing
Durable, aluminum housing with black powder coat finish
Dimensions
approx. 16.76" length x 7.5" width x less than 1" height
Fiberdyne Model Numbers
| | |
| --- | --- |
| Model Number | Fiberdyne Part Number |
| U-Stop-299 | FE-STP-024-ODP-STP-XXX-DCS |
| U-Stop-300 | FE-STP-024-ODP-STP-P12-DCS |
| U-Stop-301 | FE-STP-024-ODP-STP-S12-DCS |
| U-Stop-302 | FE-STP-024-ODP-STP-M12-DCS |
| U-Stop-303 | FE-STP-012-ODP-STP-S12-DCS |
| U-Stop-304 | FE-STP-012-ODP-STP-M12-DCS |
| U-Stop-305 | FE-STP-012-ODP-STP-P12-DCS |
| U-Stop-306 | FE-STP-012-ODP-STP-XXX-DCS |