American LED Flag

This Custom Dual Sided 13' x 32' LED American Flag project located in Times Square NYC, was an innovative collaboration between an 8A business, the national AbilityOne program (NISH), a commercial partner (Fiberdyne Labs, Inc.), and Herkimer Industries. This is a great indication of the synergies possible between the for-profit sector and the not-for-profit community in creating job opportunities in support of economic recovery for all concerned.
Features & Benefits
High Visibility & Exposure
Standard and Custom Designs Available
Environmentally Rated for Outdoor Use in Any Climate
Mountable on Any Structure
LED Lifespan of 100,000 hours. That's over 11 years running 24/7/365!
Purchasing Programs


Federal or NYS Agencies may choose to buy our products directly through the Preferred Vendor Program. Fiberdyne is proud to support and work with HARC's Herkimer Industries, a part of the NYSID and AbilityOne Preferred Source Solutions, meeting the purchasing needs of state and local government agencies while advancing employment for New Yorkers with disabilities. Click here to watch our video which outlines our project in Times Square in New York City. This outstanding collaboration created employment for veterans and people with disabilities as well as honors our armed forces.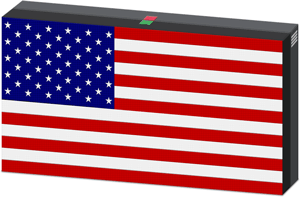 LED American Flag Standard Models

Height
Width
Price
2'
4'
Contact Us
3'
6'
Contact Us
4'
8'
Contact Us
Custom
Custom
Contact Us