About Us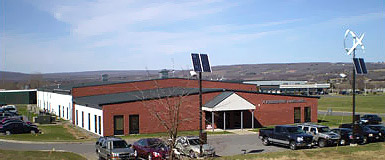 Our History
Fiberdyne Labs, Inc. is a privately held, 100% U.S. owned, corporation located in Frankfort, NY; an upstate community that lies in close proximity to I-90 and other major roadways providing easy access to major cities and airports. The company was established in 1992 with a focus on fiber optic networking products but shortly afterward it evolved into providing other passive network products such as copper cabling (Cat5, Cat5E, and Cat6), multiplexers, de-multiplexers, couplers, attenuators, and other related products as well as installation and testing services. As experts in the physics of light we've continued to expand our business by including Solid State LED Lighting products and LED billboards in our diverse portfolio of products.
Our Customers
Fiberdyne Labs provides products and services to major companies such as Verizon, AT&T, Sprint/Embarq, Time Warner, Comcast, Cox Communications, Merrill Lynch, Morgan Stanley, New York Stock Exchange, IBM, General Dynamics, Raytheon, HP, and Cisco. We also cater to thousands of smaller clients. We are unique in that we believe that no opportunity is too big or too small for us.
Our Experience
Having been in business for over 20 years, our longevity speaks volumes about our experience, critical mass and diversity. Not only have we survived in these trying economic times but we continue to thrive in our targeted businesses. Our employee experience base consists of hundreds of years in optical based product offerings and our consistent products, coupled with our diverse customer base serving multiple markets, has positioned us in a place of growth defined not only by sales volume but also by product development and product portfolio. There is not and never will be a replacement for experience and Fiberdyne's many years have forged us into the organization we are today.
Our Organization
Fiberdyne Labs has a strong organizational structure designed to support our customers and our work force. With accountability, continuous improvement, meaningful metrics, and both internal and external customer focus, the Fiberdyne management team has developed a growing world class organization that serves our customer base to the highest quality standards. Everyone here at Fiberdyne shares a common vision dedicated to complete customer satisfaction. We believe in servicing our customers using techniques such as a single point of contact, key account management and a comprehensive back-up plan to accommodate stringent schedules and time lines.
We've worked very hard to build our reputation in the industry as an outstanding source for products and services and it is our goal to offer the best products in the world. In order to achieve that goal, we are constantly learning and applying our experience to develop products and methods of customer service. As an ISO 9001:2008 certified company we are always focused on our processes and continuously improving both quality and customer satisfaction.
Our company goals and objectives have qualified us to supply our products and services to the most quality minded customers in the world. They require superior performance from their suppliers in the areas of competitive pricing, on-time delivery and accurate lead times.