10mm Pitch LED Sign
A full color Outdoor 10mm LED Sign or a full color Indoor 10mm LED Sign, is a video capable display that can be a representative landmark for your business. Whether it is at the airport or in a business, digital signs use compelling displays of video, text, and graphics to grab your attention. You can count on your sign to become a powerful accelerator in promoting your advertising and events. Eighty-three percent of those who noticed digital billboards recalled at least one of the nine messages currently running and sixty-five percent of viewers recalled at least two!
Features & Benefits
The smaller pixel pitch produces higher definition imagery and videos, ideal for close viewing, slow traffic, and high-profile installations.
Tremendous color depth available (275 billion colors in total).
Bright and clear imagery day and night (light intensity levels automatically adjust to compensate for the changing position of the sun).
Wide range of viewing distances and viewing angles.
LED Lifespan of 100,000 hours. That's over 11 years running 24/7/365!
Pixel density of 10,000 Pixels/m2
Additional benefits of digital signage over static signs are that you can change the content easily, schedule changes, show video and animations, and that signs can be adapted to the context of the audience and the event. Create content yourself or have us help you! Our design department will work with you to transform your vision into a high profile digital presentation.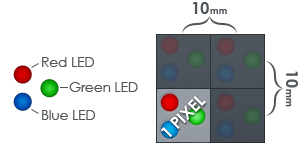 Edison Displays© 10mm Series
(click title to expand)